Who would like to take a peak around my home?



Since moving in into our new apartment in September, I've tried to decorate on a

very short
budget, but still make it feel like a home. So far, I feel pretty confident about my kitchen, my craft space, and my bedroom. The living room windows are still bare without curtains [which is good because of the sun, but bad because now Chicago is getting coooooold] but the window sills are filled with goodies, books, and plants.

In October, we had another roommate, Ryan, move in. Ryan had his own furniture that needed to fill up the living room and the kitchen. He has more a manlier style, which is kind of difficult to even out with mine and Anna's feminine style, but I think it's becoming more even.

Decorating on a budget means: thrifting, antiquing, finding treasures in the alley, lurking on craigslist, taking gnomes from your friend's lawns (of course letting them know you are keeping them for hostage), and going through your parents basement to find a bunch of vintage goodies.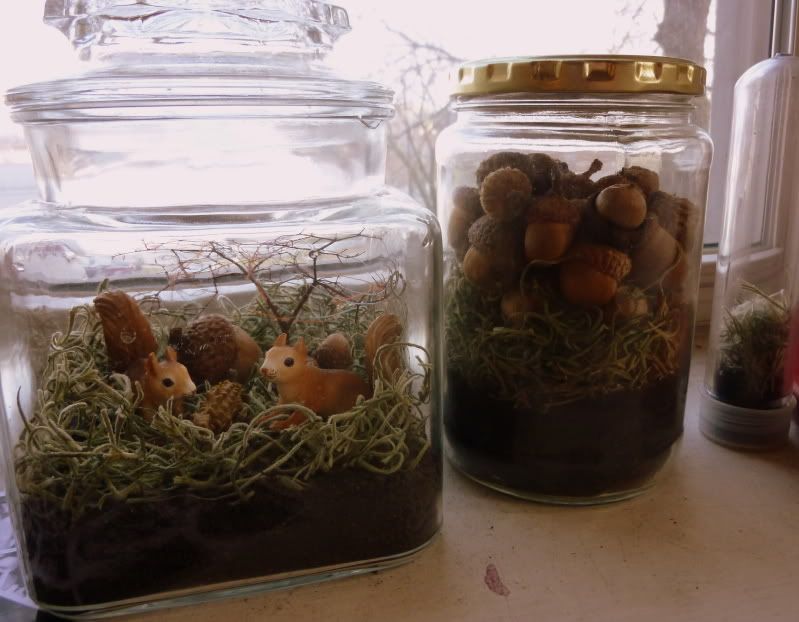 Terrariums from the thrift stores and spaghetti jars being reused. Dirt from my backyard, craft moss from the thrift store. Squirrels from Target. Acorns and mini fragile branch end from a plant outside.


Curtains leading up to our 2nd floor apartment door... left by the previous renters.


Craft area wall. All items and materials from antique stores.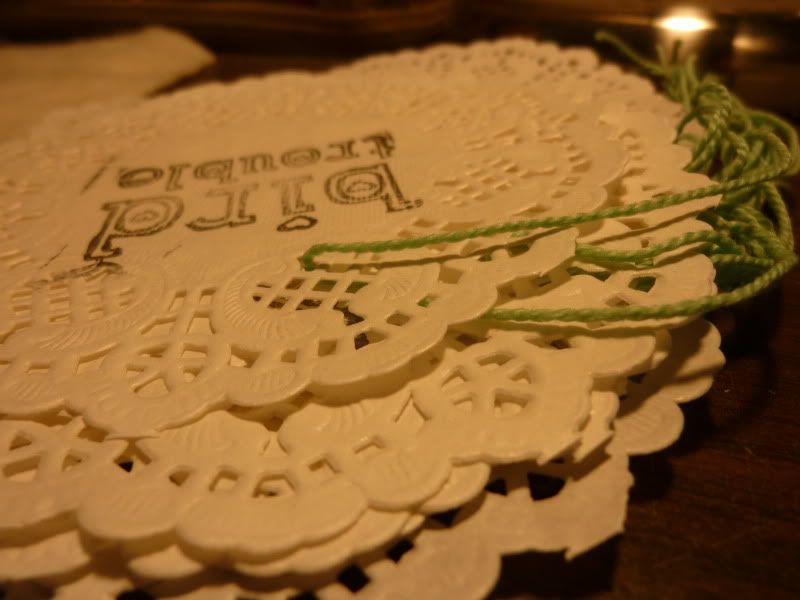 Doilies purchased in bulk from Etsy.


Wine rack turned into a scarf organizer. This is one of my most favorite item that is in my home. It's so cheerful and I love the draping of the scarves.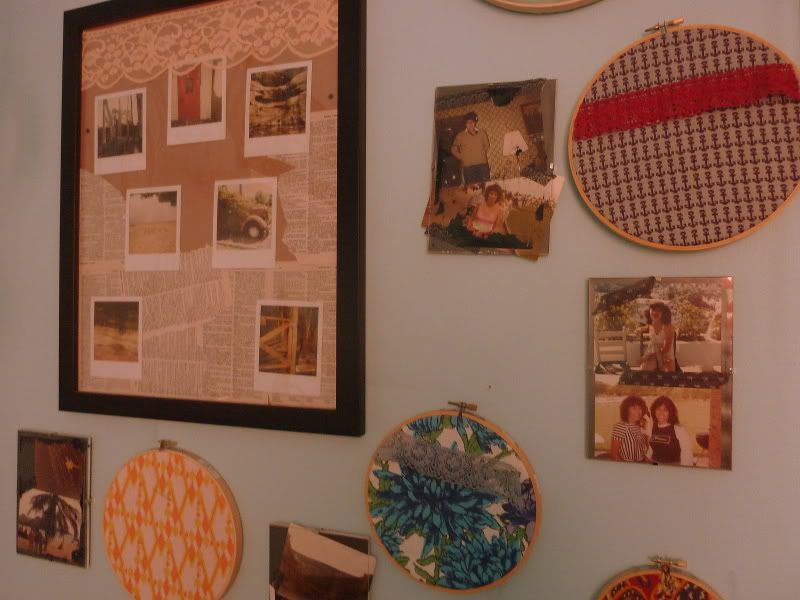 One of the walls in my room. I'm still working on this. I'm not sure about the scattered look. The smaller frames are filled with old photos from my mom's photo box. I swiped them while she was out of town. Her 70's hair inspires me so make my hair more, and more, and more Farrah.

My favorite corner in the house... the corner in my room. Crates from the alleys, knick knacks collected here and there, photos, plushes, paintings, polaroids, and love notes from my friends.
What are your favorite thrifted and re-used items in your home?
I'd love if you could share pictures in my comments.
Thanks for reading and I hope you enjoyed the post! Posting this makes me really, really happy. Lately, I've become obsessed with decorating and looking at other homes for inspirations. I'll make sure to do this more often!