I've decided that if I try to keep a strict blog schedule, I don't blog

at all

. So why not be spontaneous and make random posts? I feel I can never be super organized because my life is crazy sometimes with my day job. Then I come home... and I just sit there, live, and breathe to relax. I did treat myself to a Chinese massage this past Monday and boy, oh, boy, was that needed.

Onward to the

10 Things I Love

spontaneous random post.
Enjoy! By the way, I'm loving the comments I've been receiving lately. You are all, amazing.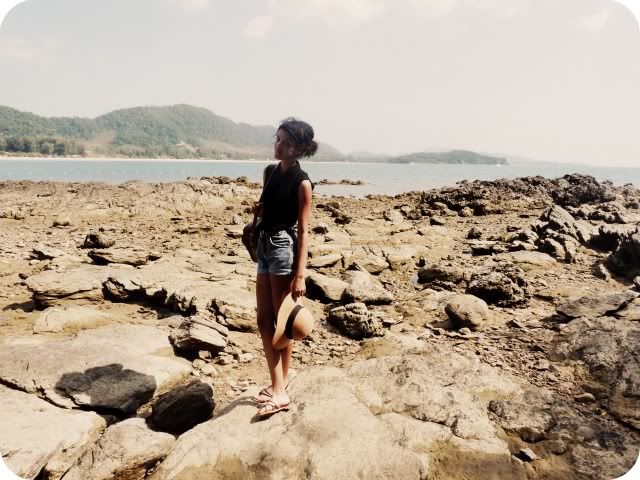 Jazzabelle's blog is filled with beautiful vacation pictures that get me craving, craving, craving a vacation. It's funny because lately, I've been talking about going out of the country to somewhere I've never been.


There's this store in Andersonville (a neighborhood in Chicago) at Clark and Foster called the Wooly Mammoth and it's filled with taxidermy, jars with preserved insects, vintage clothes, pins, and other glorious knickknacks. This deer was on the wall and I sure did get a kick out of it (did not purchase though!). It's my new favorite store find!


Seriously? How amazing is this? I wonder if it says anything else. I found this at this flickr stream: here.


Ohhhh cicadas... Come to Chicago at the right time and you'll hear them like they were right next to your ear.
This brooch is adorable.


Ever since my cat started being very social and lovable (which was like 2 weeks ago), I've been obsessed with cats. Yesterday, I watched the 30 Most Important Cats of 2010 and my cat obsession grew. I can't wait to be a dog owner again, but for now... This cat can be found on this photostream.


Warmth? Shorts? SKIRTS? Camping? FUN?!!?!? Please get here sooner. Found on tumblr.


Brand bookshelf! This is the best. I bet it's easy to make too!


I really like this illustration. Lately, I've been really inspired by octopus like drawings. I never really realized how interesting they were under we went to the museum a few months ago.


I'm swooning, swoooooooooooooooooning, over these illustrations on this blog. Too bad I can't read what it says! I've been doing some of my own sketches. I really am focused on drawing females with a lot of hair.

Maybe I'll show you guys some of my sketches after I have a few. I really want to get into it and so far, I've been finding a lot of inspiring art that keep my mind rolling.




On another note

, have any of you taken Zumba classes?
I scored a good Groupon deal and now I have 10 classes of either Zumba or kickboxing. Tonight was my first class and... well, I sure am out of shape! Not necessarily out of shape, because I was able to move the whole time without dying, but I'm SO uncoordinated and I have NO rhythm. I It kicked my butt! But it felt so, so good to be active and it was honestly a lot of fun..