As most of you know, I'm really into vintage fabrics. I really like how one piece of vintage fabric can set you apart from everyone else. This is also the reason why I like re-using all type of fabric materials that I can get my hands on. Used to be a table mat? I'll make it into a bag. Used to be apart of a dress I cut up? Clutch.
Recently

, I made a tote bag from this pattern striking komono that I found at the thrift store. It was still in it's packaging and I actually didn't fully see it spread out until I was in my apartment. I immediately started cutting the fabric, originally trying to make a skirt, but eventually thinking "This would make a great tote. Screw the skirt!" Easy peasy!


Before:
After:
I'm also really excited about this day backpack that I made out of a vintage work apron that I found at the Pilsen Vintage Baazar earlier this year.
The apron looked like those you would see at a butcher. You know those white ones? Well this apron was a heavy cream canvas, and it has paint splatter on it with a lot of wear to it.
As soon as I saw it, my mind started running with ideas and this is what I came up with.
Before:
After:
I know these aren't the best pictures but the backpack still needs a few tweaking before it's officially done. Those pictures are what I snatched when I was in the process of making it.
I'm not sure if many of ya'll look at my physical blog but

we have a new look.

I'm still trying to fix a few things but as I learn slowly, things will change slowly. If anyone has any blogs or tutorials they recommend to spruce up your blog on blogger: send 'em my way!

And you can

follow me on BlogLovin'

now!
I just started it and realized how easy it is to keep up with your favorite blogs this way.
Click the photo below to start following me!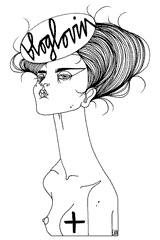 You'll start to see more of me after we move this Monday.
Yesterday, we rode 3 hours in our new neighborhood and ventured out to an adventure back alley ride around Fulton Market. We took some fun pictures with our digitals and some with our new Minolta camera we found at the thrift store earlier this week (There was film in it with photos left! We're so curious to see if they turn out and who owned the camera before us!). AHH- more about that later.
That was a teaser, I know.



xoxo,


Alexz