I've been going through a million up and downs lately, and I'm sure you have been too.
To be honest, I'm rather sick of letting myself feel like crap, and I'm sure you are too.
How many of you read
HelloGiggles
? I stumbled across this post:
The Path to Forgiveness: 8 Steps to Ditch Your Grudge
, and I went on my rainy walk with Ty this morning with a fresher look. I
know
I hold grudges and I hold them
hard
. I've been holding a really big grudge for the past month.
I also know I'm very much a loner when it comes to dealing with my feelings. I'd much rather get in my car and drive somewhere by myself, for multiple days in a row, then deal with it in any other way. But I've realized the more I get older, the more the grudges are bringing me down, so this morning after going through so many thoughts in my heads, I stopped and thought:
Alexz, you're fricken' O.K. You're 24 years old. Shit happens. It'll happen tomorrow, in a few months of now, years from now, and for the rest of your life.
This past month has been one of the toughest in my life. This past weekend, and these past few days, have been a pretty nutty emotional roller coaster, but the question flew into me this morning: What on earth am I doing? I have so much I'm so happy about, so much I'm looking forward to, some of the best friends who care about me, awesome co-workers at the salon who I miss on my days off, a hyper-active insane but healthy pup, and a route to a pretty dang good daily routine.
On Monday, I moved into my new apartment, with two real cool dudes, in the most beautiful Chicago neighborhood than I've ever lived in before. It's only been a few days and I already feel spoiled by the neighborhood and the benefits of my room.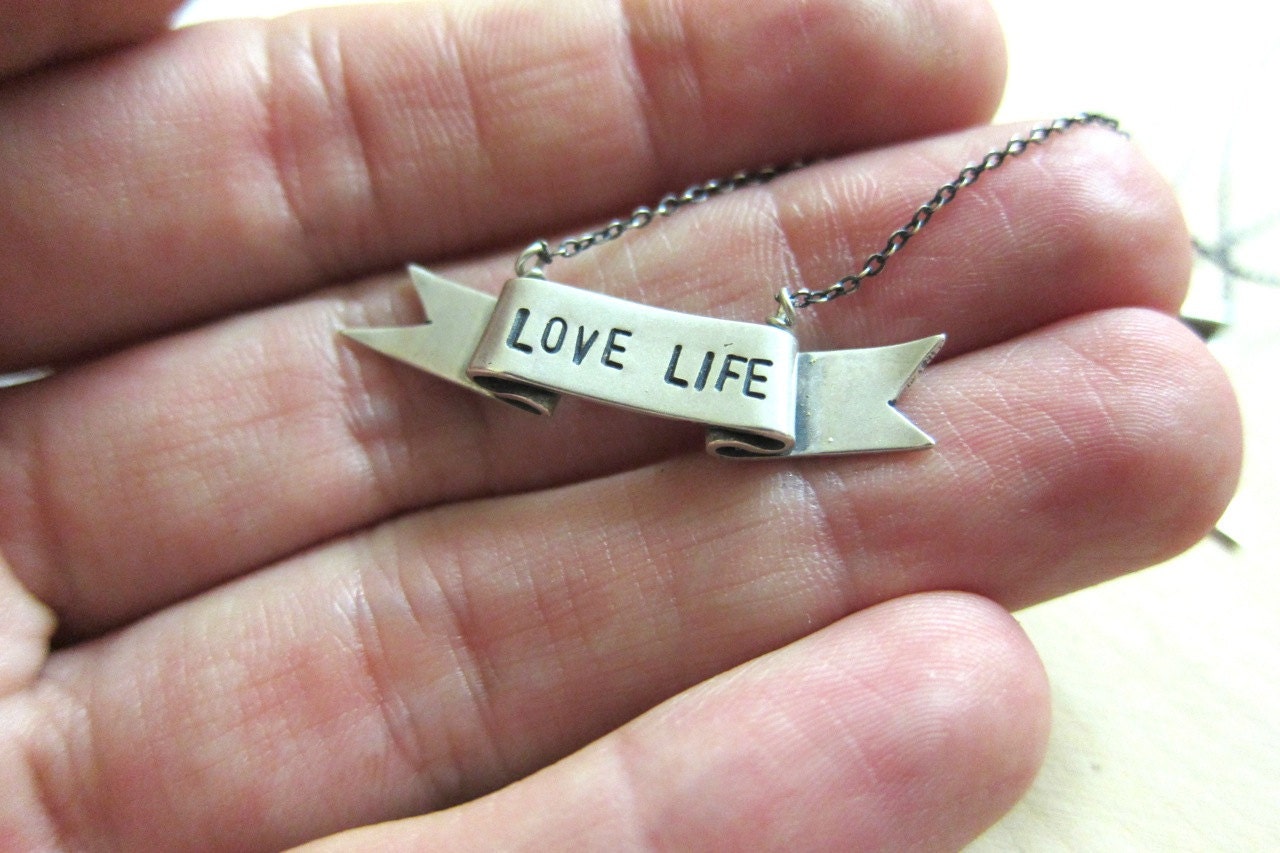 Love Life Banner Necklace from Against The Grain jewelry.
So there it is, my claim to do the following: express, communicate, forgive, move on, laugh, live, make mistakes, love again, keep sewing, meet a friend, meet a new friend, see a friend I haven't seen in a long time, get a drink, explore the city, make small talk with strangers, smile more, go get breakfast by myself at this cute little diner down the street, put a feminine touch to this apartment, save for travel, travel by myself, collect what makes me happy, do what makes me happy, stay positive, and have no regrets.
xoxo,
Alexz