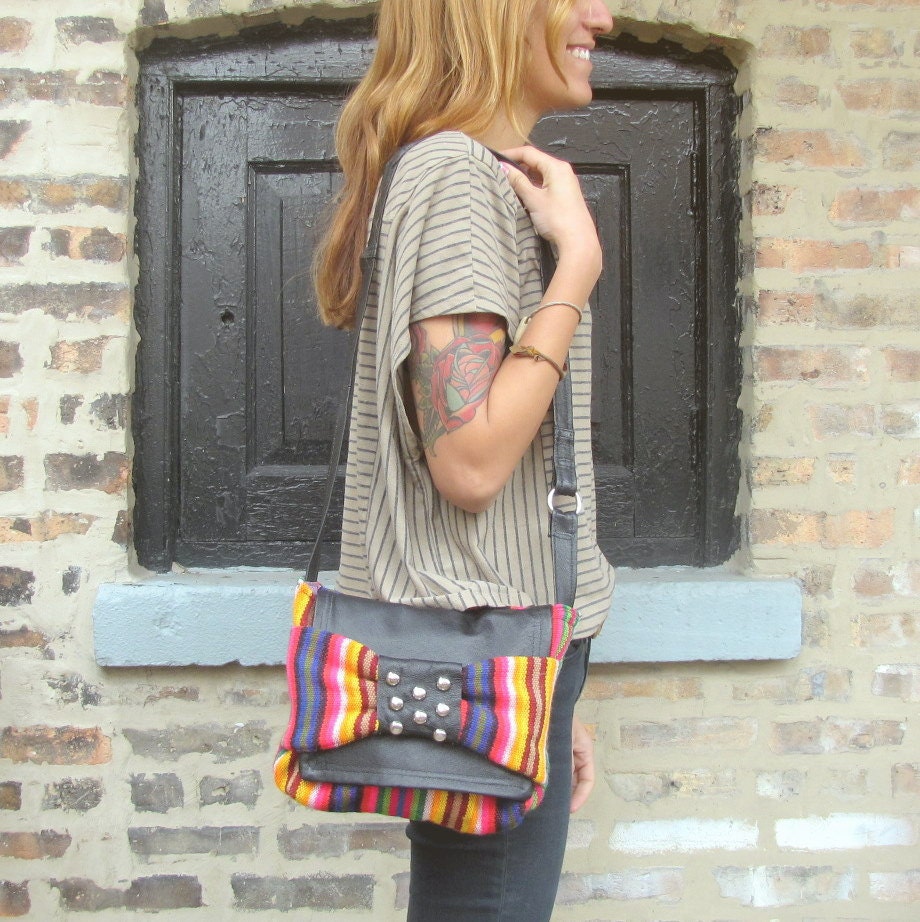 The Striped Spanish Studded Bow Satchel
I've been working on giving you new Bird Trouble bags over here that are fitting for Spring and Summer. I think all my thrifting and fabric hunting lately will pay off in the next slew of bags! I'm hoping I can create enough to come out with a small collection.
I'm focusing on brighter and bolder colors, new techniques with a wood burner, and I also created a new satchel bag design that I'm really excited about! Here are the new bags that are ready to ship.
Striped Spanish Studded Bow Satchel
I found this Mexican blanket at the thrift store that I knew I had to use for some bags. I've been wanting to design a bag with a bow for a while, and after some inspiration was strolling through my brain as I was doodling... I decided that this material would add the perfect twist to a playful bag. The pleasant colors and the strips are perfect for this spring and summer season. The strap, the flap, and the cuff for the bow were repurposed from a leather jacket. Inside is a good pocket for your phone, as well as one on the exterior back. I just really love the studs and the bow.

- - - - - - - - - - - - - - - - - - - - - - - - - - - - -
Turquoise Wrinkled Clutch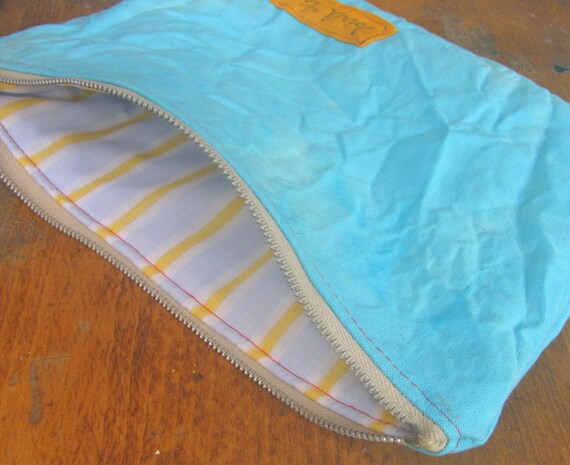 A girl can't have enough zipper clutches. Perfect for on-the-go and minimalists, these were made with scrap medium weight canvas fabric I had dyed in my parent's kitchen a few months ago. I tied and twisted the canvas and dipped it into the pot of hot turquoise dye that was on the stove. I let a little peak out of the hot water to experiment with any cool bleeding of the color.
I was so excited about the color after I let the canvas dry out. There are some "sun spots" and there are some parts where the turquoise is heavier. It's really subtle and soft but it comes out more with the lines of the wrinkles... which I love. I lined these with a striped cotton and added a leather Bird Trouble tag that I hand burned with a wood burning tool that I am preeeeeetty obsessed with.
Turquoise Wrinkled Clutch
- - - - - - - - - - - - - - - - - - - - - - - - - - - - -
This bag is an open bucket style bag with no closure. It is the perfect colorful accessory to wear with your favorite summer dress on a day of walking around the city. It's casual and simple, yet bold for the daring who aren't afraid of prints.
A while back, I found a set of retro vinyl curtains that I had to get. This is what I created out of them. The shades of green, yellow, and sienna remind me of spring time in California. The top of the bag is a canary leather that was repurposed from a leather jacket. I sewed in detailed texture lines by sewing on the sides of a thin rope. I used a leather braided belt for the strap of this bag. I think it sits on the shoulder perfectly.
California Spring Leather and Vinyl Bucket Tote
- - - - - - - - - - - - - - - - - - - - - - - - - - - - -
In other news: a special bag will be released within the next 24 hours. It has fringe.
Yep, fringe.
Here's a teaser picture.
I hope you love them! Thanks for reading and enjoy the weekend!